Jet skis are personal watercraft that can typically carry between one and four persons. The most frequent use of these machines is pleasure riding, but there are some that are used for non-commercial fishing vessels.
These machines can be ridden with the driver sitting or standing. They are kind of like the motorcycle or boats.
How Much Does A Jet Ski Weigh?
The average jet ski weighs between 300 and 950 pounds depending on the size and style of the watercraft.
After you fill the machine with gas and oil and load all of your gear onto it the weight will increase to between 350 and 1,200 pounds.
How Much Weight Can A Jet Ski Carry?
Jet skis can safely transport between 350 pounds and 600 pounds. The machines that have room for fewer passengers carry the lowest weight amounts safely.
The Sea-Doo Spark 2UP can safely carry 350 pounds. The Sea-Doo Spark 3Uo can carry closer to 450 pounds of weight. You must remember that the weight of the rider and all accessories make up the weight that is being transported by the watercraft.
Yamaha has an EX series that can be purchased with weight limits as high as 529 pounds.
How Many Styles Of Jet Skis Are There?
There are 8 styles of the jet ski.
Rec-Lites
These are the smallest and the least expensive of this kind of watercraft. They can be towed with most small cars because they are lightweight.
They have limited storage and seating capacities, and they typically support the least amount of weight. They are basically designed for a single rider.
Recreation Units
These jet skis are slightly larger and heavier than the Rec-lites. They can normally carry three adults at one time.
You can use them to pull tubers and wakeboarders and most of them come with brakes and reverse as standard equipment.
Performance Jet Skis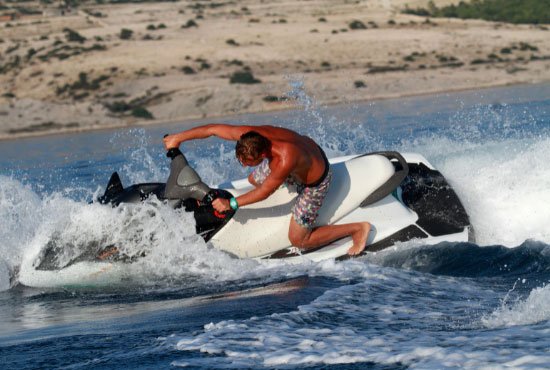 The performance skis are made with bigger engines, more power, and a higher price tag.
They usually do not carry any more riders or weight than the Recreation units so, but they usually move faster across the water.
Luxury
Luxury jet skis are designed for comfort. They do not necessarily support any more passengers or weight, but the seats are designed to be very comfortable. You can take this kind of watercraft on long rides.
They have larger gas tanks and all of the latest technology and features. They are the BMW of the jet ski world.
Tow Sport
These are made for participating in watersports. Towing skiers, wakeboards, and tubes behind the machine are made easier because of the mirrors and accessories that help you.
These are pricey jet skis, but if you do a lot of towing of people on tubes and things you might want to consider them.
Sport Fishing
Where there is water, and something that can carry you across the water, there are fishermen waiting to go. This type of jet ski is designed with the angler in mind.
They come equipped with fishing accessories as standard equipment. They are heavy-duty, have plenty of room for gear, and can be used for tow sports also.
Freestyle Sit-Down Craft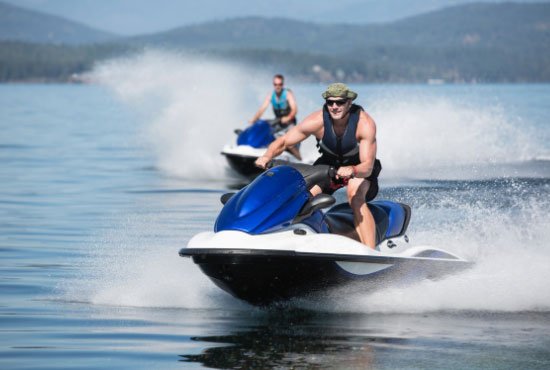 These are the hybrid skis that allow the driver to sit or stand while operating the machine.
They are fast and powerful.
They have high price tags and are not good for beginners.
Stand-Up
The driver stands while operating these machines. They are more difficult than the sit-down style and require some athletic skill and strength to maneuver.
Did You know?
In the state of Texas, it is illegal for someone younger than 13 to operate a personal watercraft like a jet ski unless they have someone with them that is 18 years of age or older.
Each year 40 to 50 people lose their lives while riding these devices.
600 to 700 people are injured each year riding them.
The most common accidents are caused by people driving too close to other watercraft.
These machines are more dangerous than boats because they do not offer as much protection,
There are more than 1.5 million registered jet skis in the United States.
A percentage of the deaths that occur to jet ski riders happen when they fall from the machine and strike their head. This blow can render them unconscious and they can drown before anyone knows they are in trouble.
Reckless driving is one of the leading causes of accidents on this equipment. Another cause is the lack of skill of the operator.
A large number of jet ski accidents are caused because the operator was under the influence o alcohol while operating the machine. In Texas, you can get a DUI while operating a watercraft.
FAQs
What Is The Largest Jet Ski?
The Sea-Doo LRV is a 156-inch-long jet ski that supports 4 passengers.
Do Jet Skis Move Fast In The Water?
They can reach top speeds of 40 to 70 mph.
Can You Sink A Jet Ski?
The hulls of these watercraft are designed with flotation foam to keep them from completely sinking, but it is technically possible to sink them.