Digital pocket scales are used by many people for many different measurement purposes. Although these devices are small enough to be carried in your pocket they have the accuracy and durability of much larger weighing instruments.
The best digital pocket scales need to be accurate, small and light, easy to use, and consistent with their measurement calculations. We had our experts use a large number of these weighing devices and the following 8 items are the ones that met, or exceeded the expectations of those experts.
To make sure that our recommendations were user friendly we also had inexperienced scale users try the suggested scales. After the inexperienced users completed their tests we are confident that the following items are user friendly, accurate, and dependable.
Best Digital Pocket Scale
1. Tesso Digital Mini Pocket Scale
One of the things you look for when buying pocket scales is a feature that makes your mode of measurement easier to do. This particular digital scale has features like an automatic shut off so you do not run your batteries down.
They also feature four different weight modes, including g/oz/ozt/dwt. The weight calculations provided by this Tesso mini pocket scale are accurate from 0.05 grams to 100 grams. You will also find that the digital system calculates the weight of the object instantly so these scales are perfect for dieters who are weighing food, or people taking medications that need precise calculations prior to ingesting their medication.
Strength and reliability are a must in this type of weighing device. This scale has a stainless steel weighing platform so you know it is strong, and will last a long time. The outer portion of the scale folds to encase the delicate portions of the scale from inadvertent damage.
The instructions for working the machine are clear and concise. With the simple push of a button, you can bring the backlit display to life. You will then select either the tare button or the mode of measurement button and place the item to be weighed on the platform.
Homgeek Digital Milligram Pocket Scale Mini Jewelry Gold Powder Weigh Scales with Calibration Weights Tweezers, Weighing Pans, LCD Display
This Homegeek milligram scale offers you the ability to have accurate weight measurements ranging between 0.001 grams and 50 grams. When you need precise weights of medicine, powder, jewelry, or any other substance, in small increments, then this milligram scale will provide you reliable calculations that you can always depend on.
You have six different units of measurement that the display screen can show your measurement in. These include grams, ounces, carats, penny weight or denarius weight, grain, and troy scale ounce.
There are four simple selection buttons on the bottom portion of the device, these are the mode button, the tare button, the PCS button and the power button.
The milligram pocket scale can produce accurate calculations in the smallest of increments so you can rest assured that you know the exact weight of the item in question.
The scale is designed to automatically shut off after a 60 second interval to help conserve battery life.
This apparatus comes with everything you need to begin using it. It has tweezers, a weighing pan, and a 50 gram calibration weight included.
2. Zilink Digital Milligram Pocket Scale
This compact little scale can provide accurate measurements in units of grams, ounces, troy scale ounces, pennyweight, or denarius weight, grains, and carats. You will be able to weight your precious jewels, gold, medications, food, and any other small amount item you need an accurate weight for.
It is accurate for up to 50 grams, 1.7637 ounces, 1.6075 troy scale ounces, 32.15 denarius weight, 771.62 grains and 250 carats. The display will read grams starting at 0.001, ounces starting at 0.001, troy scale ounces starting at 0.001, denarius weight starting at 0.001, grains starting at 0.02 and carats starting at 0.005.
The scale comes complete with the scale and platform, tweezers, a weighing tray, a 50 gram calibration weight, a user guide, and 2 triple A batteries.
To ensure that the weight calculations are correct you can easily calibrate the device by turning the scale on and waiting for 0.000g to be displayed on the screen. Press the mode button until you see CAL on the display, release the button and press again until the Cal flashes. Put the weight on the platform and the display will read PAS, then it will reset to normal weighing mode.
3. Smart Weigh ZIP300 Ultra Slim Digital Pocket Scale
This small scale has dimensions of 4.5" x 2.5" x 0.6" and weighs only 4.3 ounces. It is easy to carry and will not be troublesome because it is so light. It is powered by two AAA batteries, and the manufacturer includes these batteries with the device.
You get the reliability of precise measurements and the durability of a stainless steel platform for measuring. The stainless steel is not corroded by moisture in the air or spills, and it is very easy to clean and disinfect after use.
The scale has four simple buttons for you to press in order to choose the tare function, the correct unit of measurement, and the display you need.
The scale will automatically power off after a sixty second interval in order to save battery life. When a weight is displayed on the screen the scale will continue to display the weight for a sixty second time period.
It measures in the six standard units of measure, which are grams, ounces, troy scale ounces, denarius weight or penny weight, grains and carats. This allows you to measure any powder, food, medication or jewelry that you have.
4. Spirit Digital Kitchen Scale Accuracy Pocket Food Scale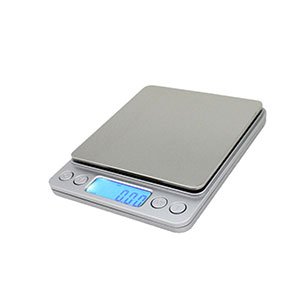 If you require the services of a digital food scale, a coffee scale, a medicine scale, a jewelry scale, a postal scale, or any small scale that can weigh in small precise measurements then this is the scale for you. The accuracy of the weight calculations this device will give you are superb. The reliability of the calculations are impeccable and consistent.
You not only get a pocket scale that is small enough for you to carry it wherever you go, but you also get a highly reliable kitchen scale. This beauty has a tare function so you know how much items way without the container they are weighed in, and it has a counting function that will count the number of individual pieces you are weighing.
The LCD screen that displays the measurements for you is backlit with a bright blue light so it is always easy to see and read the display. This pocket scale measures 4.13 inches x 4.96 inches x 0.63 inches and has a weighing platform that is 3.94 inches x 3.94 inches.
It calculates the weight of items in grams, ounces, troy scale ounces, denarius weight, grains and carats. It is truly an all- purpose pocket scale.
5. GreaterGoods Digital Pocket Scale
This digital pocket scale has been designed to be accurate within 0.1 grams. The ability to display weight measurements that are this small is provided by a sensor that is extremely precise and sensitive. You can get your measurements of weight in grams, ounces, troy scale ounces, pennyweight or denarius weight, grains, and in carats.
The lid of the scale doubles as a weighing container so you have fewer items to carry and keep up with when you are traveling with your scale.
The plastic tray/cover is very easy to clean. The weighing platform is made from stainless steel so it will not rust or corrode and will always be durable and easy to clean.
The scale uses two AAA batteries as a power source, and the manufacturer has included two AAA batteries with the machine. When you open the box the scale is packaged in you will have everything you need to begin to make weights and measurements immediately.
The scale also has an automatic shut off feature that turns the power to the scale off if it sits for a period of more than sixty seconds without any command buttons being pressed.
It can weigh items as heavy as 750 grams.
6. (Upgraded) Brifit Digital Mini Scale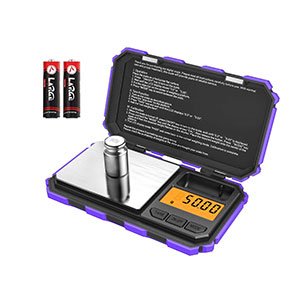 This digital mini scale is capable of providing weight calculations that range from 0.03 grams to 200 grams. That means this scale is useful as a jewelry measure, a food scale, a coffee scale, medicinal scales, and more.
It has a backlit display of the LCD screen that shows you the weight readings. This backlighting makes it easier for your eyes to discern the numbers shown on the LCD screen.
It has a tare function that will allow you to know how much the contents of your weighing container weigh without the weight of the container. That means you have precise measurements every time.
You will be provided with a calibration weight so you will always know that the scale is reading the weight accurately. This device is powered by 2 AAA batteries that the manufacturer includes with the scale.
There is an over-weight indicator that alerts you to the fact that you have an item that weighs more than the 200 grams. There is also a low battery indicator so you always know when you need to change, or charge your batteries.
This scale has a hard plastic case that protects all of the delicate instruments when it is closed. The weighing platform is made of stainless steel that does not corrode or become damaged by moisture of the item or moisture in the air.
7. Smart Weigh SWS100 Elite Series Digital Pocket Scale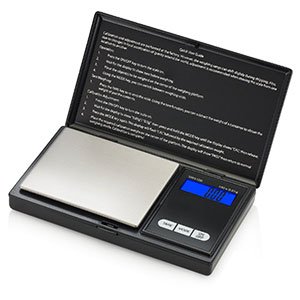 This Smart Weigh SWS100 elite series pocket scale is designed to make your weighing needs easy to do no matter where you are. If you need to weigh a package for the postal price, or weigh food to make sure your coffee is brewed exactly the same, or you have the proper amount of food on your plate, or you need to measure a medication so you get the exact recommended dosage, then this is the scale that you need.
It has a convenient tare function so you do not have to do any addition or subtraction of the container weight. The weight calculation you receive will be the precise one. It measures in six different units of measure so you can get the measurement unit you understand the most.
It can weigh an item that weighs as little as 0.001 gram or an item that weighs as much as 100 grams with the same accuracy and reliability.
The scale is small and weighs less than 6 ounces so it is not inconvenient for you to carry it wherever you go.
It is precise in its measurements, but it comes with a calibration weight so you can occasionally check the accuracy of the scale.
How to pick the Best Pocket Scales:
The hardest part of owning pocket scales is choosing the best set of scales for your needs. The following suggestions are designed to help you choose pocket scales that will make the weight calculations you need, in quick and dependable methods.
Consider all of these items when you are comparing scales.
What units of measurement is the scale capable of reading in. You want to buy a scale that is capable of giving you the weight of an object in the unit of weight that you are most familiar with. There are some exceptions because when you are weighing jewelry you want the weight to be detailed in carats, and when you are weighing coffee grounds or the water for brewing coffee you might prefer grams or ounces to be given to you.
Does the device have a tare function? The tare function provides you the weight of the item you are measuring minus the weight of the container the item is being held in. The tare measurements let you know exactly how much your coffee grounds weigh without including the weight of the plastic container that holds the grounds on the platform.
These scales are small and they weigh varying amounts. You want to know how large of weight you will measure the most often so you can be sure that the scale you purchase can handle calculations that are that large. If you need to know when something weighs 100 grams then having a scale that makes calculations of only 50 grams could mess up your measurements.
You want a device that has a platform that resists corrosion and complications caused by moisture. A stainless steel platform is perfect for this type of scale because stainless steel does not rust or corrode, and is very easy to clean.
Check all of the scale features and functions to make sure you get a device that will be best for your weighing needs.
A big question: Sometimes the digital scale shows different measurements for a particular product. Why? Here is the solution: Why Your Digital Scale Keeps Changing Weight
Final Note
The best digital pocket scales will be the devices that have the most features that will benefit you, and the type of weights and measurements you will be making. Having a pocket scale that has extra features like a lid that functions as the weighing pan will give you a device that does what you need and allows you to keep up with fewer pieces when you travel.
Always check the calibration of your machine after you have been traveling. If the weight of an object matters enough for you to weigh it then the weight matters enough for you to calculate how your machine is doing.