My best friend recently had gastric sleeve surgery and she had to weigh her food very carefully because after these surgeries the stomach is about the size of a medium to large egg and overeating can stretch the stomach. To help her manage her food intake when she ate out her husband bought her a milligram scale that was so small she could carry it in her pocketbook.
I started using her scale to weigh my carbohydrate servings, I did not want to ingest more than 150 grams of carbohydrates per day. I discovered that weighing the food was easier on me than trying to measure with a cup. So I started searching to find the best milligram scale to help me do this. The following scales are ones I really liked.
Lists of Top Rated Milligram Scales (Comparison)
IMAGE
PRODUCT
DETAILS

Our Top Pick

Our Top Pick

Material:

Stainless Steel

Capacity:

20 Grams

Batteries:

2 AAA

Check Price

Editors Pick

Editors Pick

Warranty:

2 Year

Material:

Plastic

Capacity:

100g

Check Price

Capacity:

20 Gram

Warranty:

10 Year

Material:

Plastic

Check Price

Batteries:

2 AAA/span>

Item Weight:

6.4 Ounces

Warranty:

1 Year

Check Price

Readout Accuracy:

0.003 Gram

Weight Limit:

50 Grams

Material:

Acrylonitrile Butadiene Styrene

Check Price
How to Determine the Accurate Milligram Scale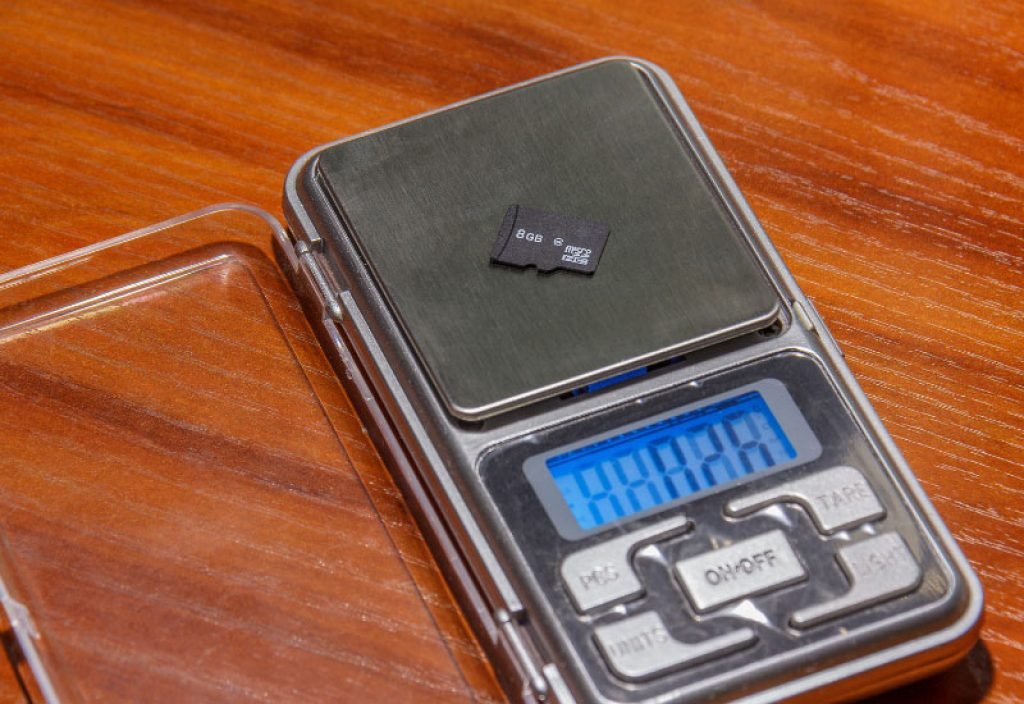 In order to determine if your milligram scales are reading the weights, you need to make certain that you place the unit on a flat and level surface before you begin to weigh anything. If the scale is tilted the reading that it gives you will be influenced by that tilt.
You want your scales to be set out of drafts and winds. You do not realize how much of an influence a draft or the wind can have on the readings produced by these scales.
Check your Mode Setting
Make sure that you have your device set to grams and not on ounces or carats. It is too easy to accidentally press the mode button and change the weight reading that is being displayed. Make sure your scale is displaying the weight unit you expect.
Check Your TARE
Weigh the container that you are going to place things in and then weigh the container with the item in it. Do these without using the TARE function and then do it again using the TARE function. This will allow you to determine if the TARE function is accurately subtracting the weight of the container.
Weighing Your Pan
You should remove the pan from the weighing plate and then add the ingredients to the pan. Never place the ingredients into the pan while the pan is sitting on the weighing plate. The results will not be accurate.
Check Against Another Set of Scales
If at all possible you should check the milligram scales you are using against another set of scales that you trust to be accurate. If you are using your scales to measure your food after surgery you can ask your doctor's office to let you check your scales against their own scales, or if you are using the scales to weigh your pet's medication you can ask your veterinarian to let you check your scales against the ones they use.
Calibration
Follow the instructions that came with your scale and do a calibration setting using the calibration weights you get with your scale. You should recalibrate every time you make a measure if you truly need your measurements to be absolutely precise.
Uses of the MG Scale
There are many different uses for a set of milligram scales. Some of these uses are:
Food Weights
After many gastric surgeries, people have to weigh their food to make sure they do not ingest more food than what their doctor recommends. The best milligram scales, especially the battery powered, portable milligram scales are perfect for people to use in this manner.
The devices are small and can be taken wherever you go so you can eat out, or go to church dinners, or eat at a friend's house, and still measure the weight of your food accurately.
Medication
A lot of pet medications, and some human medications, have to be weighed in grams according to the weight of the person or animal. These scales can determine exactly how much of a medication you are giving so you never worry about overdosing on medicine or under dosing with a medicine.
Gold and Jewelry
The milligram scales can be used to weigh jewelry. If you travel to yard sales, estate sales, or craft fairs you can weigh the gold, silver, or gem that you are considering and determine if the seller is giving you an accurate description of the item before you buy.
Other Uses
The milligram scales are perfect for small lab experiments, and studies, weighing nickel, and other small items.
Best Digital Milligram Scales in 2022 (Reviews & Buying Guide)
1. American Weigh Scales GEMINI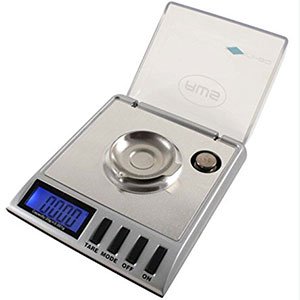 According to customers American Weigh Scales GEMINI best milligram digital scale. This set of scales was designed with portability in mind. The weighing plate has a plastic cover that will protect it when you are transporting the unit in the carrying case designed for it. This unit is portable and the carrying case makes it very easy to bring this in your purse, your luggage, or a tote when you travel because the unit is completely protected.
It is powered by two AAA batteries so you do not have any cords or chargers to worry about when you travel.
The backlit LCD screen clearly displays the weight of the objects you have on the weighing plate. The screen can display the weight in g, oz., dwt, CT, gn/gr, according to your preferences.
This little powerhouse does have TARE function. TARE function deducts the weight of the container that you place a product into so you can have just the net weight of the item you are interested in weighing.
It is pre-calibrated when you purchase the item, but it comes with two calibration weights that you can use to reset the calibration if you ever think the scale is not reading accurately. It can measure as much as 20 grams at one time and it displays those measurements in 0.001g increments.
Extra features
Only requires 2 AAA batteries
TARE function
Precision measurements
Dependable
Durable
Portable
Cons
High-power consumption
Needs to be on perfectly level surface
3. Smart Weigh SWS100 Elite Digital Pocket Gram Scale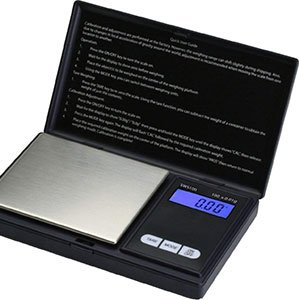 The Smart Weigh SWS100 has an LCD screen that has a stark contrast so it is very easy to read. The digital display on the screen is large enough that it is easy to read.
It has a TARE function that will allow you to determine the exact net weight of a product by subtracting the weight of the bowl or container the product is in from the total weight. This takes the entire math, figuring, and guessing out of weighing things.
It is a multi-function weighing device that can measure food stuff and cooking ingredients, powders and medications, gemstones, coins, jewelry, gold, silver, and more. You get all of that convenience in a small unit weighing only four ounces that is easy to carry with you when you travel and is powered by batteries.
You will be able to measure as much as one hundred grams, in increments of o.001g, or you can measure things that weigh as little as a half gram even 0.0001 gram! This is a handy device that you can take into eateries and use inconspicuously so you know exactly how much each of your food portions weighs.
The weighing platform is made of stainless steel so it is easy to clean and maintain. This is the best milligram scale for powders on the market right now. If you're looking for more digital pocket scales options you can check our other guide.
What Makes It Unique?
Multipurpose
Easy to clean
Will not corrode
Easy to operate
Large digital display
Display is backlit
Could Be Improved
Cannot be placed in dishwasher
Requires batteries
4. Fuzion Digital Milligram Scale
If you're looking for a kitchen scale with accurate measurements I highly recommend the TedGen milligram scale. The TedGen Digital Milligram Scale is a multifunctioning weighing system. You can use this unit as a lab scale, or as a jewelry scale to weigh carats, or as a powder scale, or as a kitchen food weighing scale, and more. It can display the weight of the items it weighs in milligrams, in ounces, in carats, in grain, in grams, and more. You do not have to do any calculating of figuring. You simply select how you want the scale to display the weight of the item you are weighing.
The weighing plate of this system is protected with a clear plastic cap. That allows you to transport the scale with you without damaging your weighing plate or getting the weighing plate dirty.
This device is small and portable, but it has the ability to weigh something as heavy as 50 grams and it will give a weight that is accurate within one thousandth of a gram.
The unit is powered by two AAA batteries that come included with purchase. You also receive a pair of tweezers, a calibration weight so you can check the accuracy of your device and reset it if need be, and one weighing pan. This is the most accurate milligram scale on our lists.
Its Best Features
Uses standard AAA batteries
Weighing pan included
Multifunctional
Clear plastic cover
Easy to clean
Compact and portable
Disadvantages We Find
Harder to calibrate than some similar items
Cannot tolerate continuous heavy usage
5. Smart Weigh High Precision Digital Milligram Jewelry Scale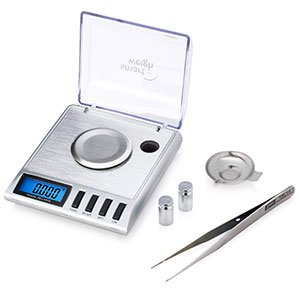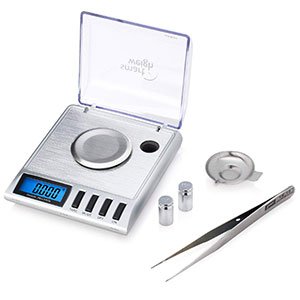 The Smart Weigh High Precision Digital Milligram Scale can be used to weigh almost anything you would want to weigh. You can use it to weigh medications, powders, jewelry and gemstones, and food products. You can make all of these different measurements because the scale will read the weight in ounces, milligrams, carats, grain and more. You simply select the weight measurement you prefer by using the MODE button.
This is a highly accurate scale. When you buy it the scale is already calibrated and it is adjusted so that it is accurate within one thousandth of a gram. If you think that the scale is weighing inaccurately the unit comes with two calibration weights so you can check the calibration of the system and reset it if you need to.
The TARE feature of this unit allows you to measure things that need to be measured in a container, like powders, or some food items, and get the weight of the item you need without the added weight of the container you placed it in. Your scale will take into consideration how much the container weighs and will deduct that weight from the total weight so that you know exactly how much the contents of the container weighed with no guessing.
What Makes It Special?
Comes with two calibration weights
Accurate
Attractive
Compact
Easy to use
Several modes of measure
What Cons Did We Find?
Needs to be stored in upright position
Batteries do not last very long
6. JamBer Digital Milligram Pocket Scales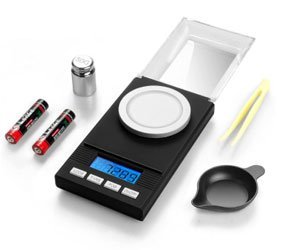 The precision Tare feature of this set of scales is amazing. It automatically assesses the weight of the bowl or container that you have placed on top of the scale and it deducts the weight of the bowl or container from the final weight after you add the ingredient you desire to measure. This feature is pure genius and for anyone who has to measure and weigh medications this feature stops any possibility of accidental over or under dosing.
The scale has an automatic off feature that will allow the device to power itself off if it remains unused for a pre-determined amount of time. You also have the option to turn off the automatic shut off feature.
The WAOAW digital milligram scale is powered by 2 AAA batteries. There are indicator lights to warn you when your battery power is getting low or when the device has been overloaded.
With this unit, you can measure as much as 50g at one time. There is a backlit LCD screen that displays the weights in grams, ounces, carats and grains. You simply push the MODE button and then choose what way you want the weight displayed.
This unit comes with everything that you need to get started using it. It includes tweezers, a weighing pan, a 5og calibration weight and the batteries to make it function.
Its Best Specialties
Precise measurements
Large display
Includes accessories
Uses normal AAA batteries
Automatic shut off
Weighs in several modes
Features We Don't Like
Has only one power source
Cleaning is difficult
7. Homegeek Digital Milligram Pocket Scale
This scale easily weighs up to 50 grams and displays the weight on an LCD backlit screen. It can display the weights in oz., g, CT, dwt, ozt. You get to select how you want your weight displayed and all weights will be accurate within one thousandth of a gram.
The Homegeek Digital Milligram Pocket Scale can be used to weigh many different items. You can get precise measurements on gold, gemstones, powder, medications, coins, or food ingredients. It makes the perfect portable diamond scale, jewelry scale, and lab scale.
The device has a TARE function so you can determine the weight of the item you have to place in a container without getting the weight of the container. When the scale uses the TARE function it deducts the amount that the container weighs from the total weight of container plus contents so you get a net weight on the contents.
This device is designed for portability and accuracy. There is a clear plastic cover that flips over and covers the weighing plate when the unit is not in use. This feature protects the calibration and accuracy of the scale. This plastic cover will also protect your item being weighed from the influence of wind or air current around the device while it is in use.
Our Favorite Features
Easy to calibrate
Easy to clean
Accurate
Automatic shut off makes batteries last longer
TARE function
compact
Could Be Better
Requires 2 AAA batteries
Cannot be submerged in water
Picking the Best MG Scale
When you go to select a milligram scale you have to determine what features you need the scale to have, and then consider those features along with how easy the scale is to use, what power supply the scale uses, and if the scale is portable or not.
TARE Function
A milligram scale needs to have a TARE function. The TARE function weighs the container that you place on the weighing plate, and then it weighs the container along with the ingredients you place in the container. Once it discerns the weight of the container and ingredients the scale automatically deducts how much the container weighed so you know how much the ingredients inside the container weighed.
Weight Readings
You want a milligram scale that can display the weight of the item you are weighing in several different modes. By having a device that can measure in g, oz., gn/gr, CT, DWT, ozt, you get a device that can be used to weigh many different types of items.
LCD Display
You want a scale that has a backlit LCD display that is easy to read. This type of display eliminates some of the errors that can happen when you are reading your weight results.
Carry Case
If you plan to take your milligram scale with you then having a carry case to transport the unit in is handy. The carry case will protect your unit and possibly stop the calibration from being disrupted.
Some scales also have plastic covers that can be closed over the weighing plate to protect the plate from dirt, debris, and being jarred during transport.
Battery Power
If you are going to be transporting your milligram scale you will want one that is powered by AA or AAA batteries instead of electricity. This eliminates the need for a power cord or an electrical outlet.
People who use these scales to measure their food after they have gastric surgery say the battery powered units are easier to use because they can use them right at their table instead of having to ask to be allowed to go into the kitchen area to make their weight measurements.
Stainless Steel Weighing Plates
If you get scales that have stainless steel weighing plates you will have a unit that is easy to clean, and that will be durable.
Calibration
You want a unit that comes pre-calibrated, but you also want to get calibration weights so you can reset the scale if it ever begins to be inaccurate.
How to Take Care of A Milligram Scale
Related Articles:
1. Best Powder Scale for Reloading
Once you have a milligram scale the thing that you must be concerned with is caring for the scale properly. Proper maintenance and care will let you have a device that lasts longer, and one that gives you more accurate measurements.
There are some things you NEVER do when cleaning and storing milligram scales. These include:
Pressing down on the balance pan
Using cleaners that contain harsh chemicals
Use bleach to clean the pan or platform
Leave salt on the scales
Drop the scales
Store the scales on their side or upside down
Put too much weight on the platform
Leave dirt or debris on the platform or in the balance pan
Leave a loaded balance pan sitting on the platform
Store anything on top of the scale
Store in bright sunlight
Leave outdoors
The following things are the things you need to do to clean and care for your milligram scales.
Dust the platform off after every use
Use a damp, not wet, cloth to wipe the platform and pan clean
Clean the balance pan after each use
Change the batteries regularly
Keep the cover closed when the scale is being stored or not being used
Keep the scale out of reach of children
Always calibrate the scale
Do not lose the owner's manual
Do not mix the batteries. If you change one battery change all of the batteries.
Remove the pan each time you clean the scale so you can clean it more thoroughly
Use canned air to blow away dust and debris
Use purified water when dampening a cloth to clean the scale
Always set the scale on a steady and level surface
Keep the battery cover on the scale
Your scales are not really hard to care for. You just have to develop a habit of cleaning them off after each use so they will be pristine when you use them the next time.
The slightest amount of dust can cause the weight measurement to be off which could be disastrous if you are using the scales to weigh important medication ingredients or the components needed to make a bullet.
Keep a small detail brush close to you so you can brush the platform off after you use the scales.
The pan should be wiped clean and then dried before it is placed back on the scale. Do not let the pan sit with moisture on it or in it because this encourages corrosion.
Check the accuracy of your scales on a regular basis. Weigh something like a seasoning that you are 100% sure of the weight. Then make sure the scales record the accurate weight.
Always recalibrate the unit after it has been moved. Never store the unit on top of your air fryer or your microwave. The heat from these appliances can damage the scales.
Best Milligram Scale: Frequently Asked Questions
Why Do Small Weights Come With Milligram Scales?
Milligram scales are designed to give accurate weight measurements for very light ingredients like seasonings or medication components. They need small weights to recalibrate them.
What Are Milligram Scales Used For?
Milligram scales are used for a variety of weight calculations including food weights, coins, jewelry, medicines, powders, and more. They are even sometimes used to get precise weight measurements for reloading supplies.
What Kind of Scales Do Professional Bakers Use?
Baker scales are precise instruments that can weigh larger amounts than most milligram scales but can also weigh the slightest amounts for perfect seasoning amounts.
Final Note
Using a milligram scale should be easy to do. The latest technology has created weighing units that have easy-to-read displays, are light and easy to carry with you, and are battery-powered. If you read the article carefully, you know now which is the best milligram scale on the market right now.
The accuracy of milligram scales is usually correct within a one-thousandth of a gram so these devices are being relied on by people who have to take precise amounts of medications or need to add precise amounts of ingredients to their food.
These scales come in different sizes and can read from 0.001g of weight to 110 grams of weight with perfect accuracy.