A postal scale makes it convenient for you to know how much a package or parcel weighs prior to shipping. These scales are also effective at weighing many other items around the home or office so they are actually multi-functional devices.
In our search for the best postal scale, we asked homeowners, small business owners, and expert postal representatives to try out the different scales and tell us what features they had that were useful and reliable. The following postal scales were the top pick out of all of the scales that were evaluated.
Best Postal Scale Reviews
1. Weighmax W-2809 90 LB X 0.1 OZ Durable Stainless Steel Digital Postal Scale
This versatile stainless steel digital scale can display measurements in pounds, kilograms, ounces and grams. These weight measurements will be displayed on an easy to read backlit digital display screen.
This postal scale will weigh items that weigh as much as 90 pounds. It makes its weight adjustments in 0.1 ounce increments. It does not weigh anything lighter than ten grams. The stainless steel weighing platform is easy to clean and care for, and very durable.
It has a TARE function that will allow you to weigh objects so small that they must be in a container and get their weights without the weight of the container. The scale calculates the weight of the container and then after you add the item to the container the scale recalculates the weight and automatically deducts the weight of the container.
It has a hold feature that will allow you to press a button so the weight of an object is not cleared from the display screen even when you remove the object from the weighing platform.
It has an automatic shut off that will turn the scale off if it is not used in a ninety second period of time unless it is plugged into the AC adapter.
The unit comes with an AC adapter, a USB cable, and the necessary batteries.
2. Accuteck ShipPro 110lbs x 0.1 oz. Digital Shipping Postal Scale
This postal scale will weigh items as heavy as 110 pounds. Your weights are measured in 0.1 ounce increments and can be displayed as pounds/ounces, grams, or kilograms/grams on the digital display screen.
This scale is designed to be powered by a USB cable, batteries or using an AC adapter plug. The data from the scale cannot be transferred to another device through the use of the USB cable, the USB cable os for power only.
It has an extended cord so you have no trouble plugging in the AC adapter to power it with your household electricity. The digital display is backlit but it is also protected by an energy saving mode so it does not use as much battery power.
It has both hold and a TARE function. The TARE function allows you to know the weight of the contents in a container minus the weight of the container. The scale does all of the equations for you by subtracting the weight of the container and displaying only the weight of the contents. The HOLD allows you to keep the weight of the last item weighed on the display screen after you take the item off of the weighing platform.
3. My Weigh Ultraship 75 Lb Electronic Digital Shipping Postal Kitchen Scale
This multi-functional postal scale is accurate and can be used as a postal scale, a shipping scale, to weigh luggage prior to flights, and many other items. It has the ability to weigh items that are as heavy as 75 pounds or 34 kilograms. It can display weights in ounces and pounds or grams and kilograms.
This device is powered by four C batteries, but you can purchase an AC adapter and plug it into your standard household electrical outlet.
The unit comes with a letter tube holder, a mail/envelope holder, and a remote. The weighing platform measures 8 x 6.25 inches and the scale measures 8.9 x 8.1 x 2.8 inches.
It has a TARE button so you can measure the contents of a container without having the weight of the container included. It has an auto off feature that will turn the device off, and save battery power if the device goes without being used for a certain amount of time. It also has a hold display feature that will hold the weight on the display screen after you remove the item from the weighing platform and give you time to note the weight of the item or compare the weight of the item.
4. DYMO Digital Shipping Scale, 100-Pound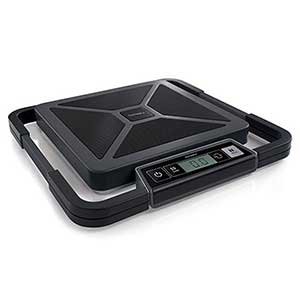 You can easily see the precise weight of packages that weigh between 2 pounds and 100 pounds. These weights will be discerned in one half pound increments. Anything weighing under two pounds will not be heavy enough to engage the scale.
This scale is portable so you can easily take it the scale to where the packages are to weigh them. There are carry handles that help you move the scale. You can easily set the scale on the floor so that you do not have to lift heavy packages very high.
The LCD screen is detachable and can be held in your hand or mounted on the wall. This stops the package you are weighing from interfering with your ability to read the digital display.
This device can be connected to your personal computer or to a MAC so that you can use online shipping and mailing services. You will be able to provide accurate and precise weights for the parcels that you are shipping.
It comes complete with an AC adapter and a USB cable. It can also be powered by 3 AAA batteries, but these batteries do not come with the device. The auto off feature allows you to save battery life because it shuts the scale off when it sits idle for more than a predetermined amount of time.
5. Weighmax 2822-75LB postal shipping scale, Battery and AC Adapter Included
You can weigh packages that weigh as much as seventy five pounds and the accuracy of the weights is within 0.2 ounces. You can weigh your first class letters or your large packages. Your package will have to weigh a minimum of six ounces for it to be weighed.
The batteries and the ac adapter to operate this scale comes with the scale. There is an auto shut off feature so the scale will not simply run down your batteries because you forgot to shut it off when you were through using it.
It comes with a TARE feature and a hold feature. The hold feature will allow the weight of the last item you weighed to be displayed long enough for you to finish noting the weight or finish creating an accurate postage label for the item. The TARE feature automatically deducts the weight of a container from the weight of the container and its contents so you know the exact weight of just the contents.
It can switch modes and display weights in grams and kilograms or ounces and pounds dependent on what you prefer. Switching from one weight mode to another weight mode is as easy as pressing one button.
6. Digital Postal Shipping Postage Bench Scales 35 lbs
This digital scale will weigh items that are as heavy as thirty five pounds in increments of 0.1 ounce. You will have the option of receiving your weight readings in kilograms, grams, pounds and ounces.
There is a digital display screen that is backlit so you can see the numbers easily. There is also an automatic shut off feature that allows you to save your battery life. You will never go to weigh an item and discover that the batteries are dead because you forgot to turn the scale off the last time you used it.
There is a hold feature that will hold the last displayed weight on the digital display screen so you can take care of making shipping labels, and writing down any information that you need to write down before you forget the exact weight of the item. The scale has 3200 display divisions and with 2mil internal resolutions.
The weighing platter measures 8.5 x 7 inches and allows you to measure your letters and packages easily, with precision. It also comes with the Any Call software that will allow you to recalibrate your scale if you should ever need to do so.
7. Accuteck Heavy Duty Postal Shipping Scale with Extra Large Display
If you have large or big packages to ship then this scale will provide you weights as high as 85 pounds with precision within 0.2 ounces. You will have four convenient reading modes so you can understand the exact weight of the item in ounces, pounds, grams, and kilograms.
The auto power off feature saves your battery life by turning the machine off within a set amount of time. There is also an auto zero function that will automatically zero out the scale before you weigh something else. The very latest in weighing technology has been designed into these scales so you have the most up to date weighing capabilities available.
The scale has a TARE function that will deduct the weight of a container from the total weight of an item and container. There is also a hold feature that will display the weight of your last weighed item after the item has been removed from the large weighing platform.
The scale comes with the batteries and ac adapter that it needs for power.
It has an extra-large digital display so you can easily read the weights that are displayed. The Press Key is also large and easy to press even if you have large fingers.
8. ACCUTECK All-in-1 Series W-8250-50bs A-Pt 50 Digital With Ac Adapter
This scale has a foldable mail holder that can stand upright to a position of 90 degrees so it can keep rolling tubes and irregular packages from falling off the weighing platform or moving and causing the weight to be inaccurate.
This scale can weigh packages as heavy as 50 pounds with a precision of 0.1 ounces. It can display the weight of items in grams, kilograms, ounces and pounds.
The hold feature makes weighing an over-size item and seeing the weight easy to do. The hold feature will not allow the display of the weight to automatically clear when the item is removed from the weighing platform so you can see the weight on the digital display screen even if the package was obscuring your view of the display screen.
The TARE feature is a familiar feature that helps you when you are weighing items that are small and must be weighed in a container. You get the weight of the items and the scale deducts the weight of the container so you do not have to do the math for yourself.
There is a self-calibration feature that allows you to calibrate the scale using any item that has a weight you are certain of. You can weigh something that you know weighs five pounds and set the calibration and do not have to have something that weighs the 50 pound maximum.
Choosing the Best Postage Scale – Buying Consideration
When choosing a postage scale for your home or business there are certain things you should consider before you buy.
How Will You Use the Device?
The first consideration that you should have when shopping for a postage scale is how you plan to use the scale. Is it going to be for weighing mail, small packages, or large items?
Will you also use the scale as a food scale, or as a luggage scale? How you are going to use the scale will determine what features will be the most useful to you in your daily activities.
How Heavy Will the Items You Weigh Be
You have to determine the maximum weight that you will usually be weighing so you can choose a scale that is capable of weighing items that are as heavy as your maximum weight will be.
Some of the features that are common on postage scales and their purposes:
TARE is the feature that allows you to weigh small or loose items in a container and the scale deducts the weight of the container for you to display the actual weight of the contents in the container
HOLD features will hold the last weight displayed on the display screen so if you were weighing a big package you can still see the weight after the package is moved, or can still see the weight for a long enough period to make a proper shipping label
AUTO OFF features will save battery power by shutting the device off if you do not use it for a specific amount of time
MODES or UNITS of Measure will allow you to see the weight of items displayed in ounces, pounds, grams and kilograms.
Backlit display screens make it easier for you to read the weight that is displayed no matter what lighting conditions in the area you are weighing the item are.
Large weighing platforms make the job of weighing large packages easier
Portability
If you are going to weigh items that are large, bulky or heavy then you want a scale that you can place on the floor so you do not have to lift the heavy item on top of a counter or cabinet. Portable units will also allow you to take the scale with you when you travel so one scale could be used in your home or office.
Usage of Parcel Scale:
A parcel scale can be used for many different purposes around your home and office. The postal scale usually has a flat surface weighing platform but may also have a weighing platform with sides that allow it to hold small items or round items in position so they can be weighed. Some of these uses include the following:
Weighing letters to make sure that you have applied sufficient postage. Most people are guilty of over-paying for their postage on letters because they are uncertain of the exact weight of a letter and they want to make sure their letter is delivered. They will simply add an additional stamp rather than take the chance their letter does not get delivered.
Weighing larger packages so you can determine the shipping weight and the cost of shipping the item.
 Weighing luggage before you go to the airport for a luggage check so you do not have to pay for overweight luggage. Most airlines consider any luggage weighing more than fifty pounds to be overweight. The overweight charges can be double what the cost of shipping a fifty pound piece of luggage would be.
Weighing carry-on bags prior to traveling so that your bag will be allowed to go into the airplane with you and not have to be checked and shipped through the back of the plane.
Weighing pets to determine the amount of medication you can give them. This allows you to never over medicate your pets.
Weighing babies who cannot stand on a traditional scale. So you can see the exact weight of your precious baby or grandchild.
As a food weighing system to measure produce prior to selling or when you are buying it. If you are buying produce by the pound you will be able to see the exact amount that you are purchasing and calculate the fair price you are paying for the product.
As a jewelry scale to measure gold, silver or precious stones by weight
To measure ingredients for coffee brewing so you can re-create a perfect brew over and over. To create perfect coffee you have to have an exact measurement of water and coffee.
Having the ability to weigh your own letters and packages will allow you to save money on postage, and allow you to stop paying too much postage by guessing.

Final Notes
The best postal scale is one that will allow you to weigh items that you are going to be shipping in precise measurements. You need to buy a set of scales that are capable of weighing items as heavy as you think your maximum weight packages will be.
Often people use these scales to help them weigh luggage and weigh other items so that they know if their bag is too heavy before they go to the airport. Extra bags cost less to check than overweight bags cost to check.
Before you buy a set of postal scales you should make sure the features the scale has are the ones that will be beneficial for you.