An angler can only have bragging rights about the big ones they catch if they have accurate weights and measurements of their catch. The best fish scale is an angler's desire, so they can prove to people who caught the biggest fish.
In the U.S. fishing create $208 billion dollars in sales last year. Fishermen helped to create and support about 1 and one half million jobs in the United States.
The scales used by these sports fishermen must be rugged, reliable, and dependable. They must also be able to withstand all types of weather conditions. The following 7 scales all meet the rigid requirements of the average angler.
What Fish Scale Do The Pros Use?
The professional fishermen and women have almost all switched to using digital scales to weigh their catch. The digital scales read in precise ounces and smaller increments than the older analog variety. When a fraction of an ounce can mean the difference between taking home the prize money you want the scale that will reveal that weight.
Most professionals use only the gripper style scales because the majority of professional anglers do catch and release fishing. The gripper clamps are gentler and do not cause as much damage to the fish so when the fish are released, they can return to life in the water and live to be caught again when they are a little longer and heavier.
The professionals use a large variety of scale brands. They do all seem to like scales that have an automatic shut-off features, hold and memory features, and built-on tape measures to measure the length of fish.
7 Best Fish Weight Scale Reviews for 2022
1. ReelSonar Digital Fish Scale Tape Measure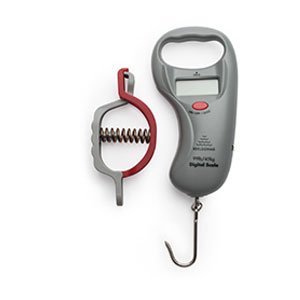 The RealSonar digital scale stands out amongst the completion because it features a digital display screen that is easy to read, and accurate within .02 pounds. The LCD screen the weights are displayed on is large and easy to read, even in sunny conditions.
This wonderful scale does not just give you the weight of the fish you just caught. It also provides you with the tape measure so you can measure the length of the fish you just caught. It will accurately measure a fish that is up to 39 inches long.
You will be provided with accurate weight calculation between .02 pounds and 99 pounds. It has TARE weighing designed into it so you will know the weight of your fish without the weight of any container it might be in.
It has a lip grabber that can be removed if you need to. It also has a stainless steel hook for holding up the big guys.
This is a tool that every angler can use. It has a battery that will last for as much as 500 hours. The scale also has an automatic shut feature to help the battery last even longer. If you are looking for the best rated fish scale I highly recommend this.
What Makes It Special?
Easy to read LCD screen
Accurate with weights starting as low as .02 pounds
Measures length and weight
Stainless steel hook
Automatic shut-off
What Cons Did We Find?
Batteries made need replacing often
Not waterproof
2. Eastaboga Tackle BogaGrip Fishing Scale
The Boga Grip 315 was designed with the "catch and release" policy as a guideline. The scale will measure a fish that weighs as much as 15 pounds, or as little as one quarter of a pound. It is also designed to hold the fish in a delicate grip that does no injury to the fish. This is important in catch and release because an injured fish might not be able to return to living the same quality of life it had before, and an injured fish may become a predatory meal for a larger fish, or other species.
This fish weighing device is crafted from high grade plastics and stainless steel parts. The stainless steel will not rust or corrode no matter what the weather conditions are like, or whether you fish fresh or salt waters. Stainless is strong and resilient, and the plastic components are made from acetal. Acetal is a high grade plastic substance that is able to withstand cold temperatures without getting hard, or becoming brittle.
With this measuring device you can weigh your fish, get an up close look at the fish, and even take a picture of the fish to show all of your friends. Then you can easily release the fish back into the water with minimal human contact.
Why Did We Pick on Our List?
Grip does not injure fish
Stainless so no corrosion
Withstands cold temperatures
Small and portable
Easy to use
What Disadvantage We Find
Cannot weigh a fish that weighs over 15 pounds
Water resistant but cannot be submerged
3. Entsport Fish Lip Digital Fish Gripper Scale
One of the best things about this set of fish scales is the fact that you can use them with just one hand. The scales are lightweight and attached to a lanyard that you can strap around your wrist. The when you need to use them you rejoice that they are simplified to the point that you only need one hand to operate them.
Another great feature of these scales is the measuring tape that allows you to know the precise length of the fish, as well as the weight calculations that tell you the precise weight of the fish. The tape measure that allows you to get the fish length is retractable so it is never in the way.
The device is made of stainless steel so it will not rust or corrode. I can tolerate hot or cold temperatures and you can use it during salt water or fresh water excursions. The quality of the materials used in the construction of an item like this make the difference in how accurate the item is, and how long the item will last.
This scale is designed to grip the fish lip gingerly so that it does not tear or damage the fish lip. You can release a fish weighed using this scale and not have to worry that the fish was injured.
Features We Like Most
Can use with just one hand
Measuring tape built-in
Made from quality materials
Does not injure fish
Water-resistant
Most accurate fish scale
Features We Don't Like
Will not be able to weigh really large fish
May be slippery when wet
4. Dr. Meter PS01 Electronic Digital Fishing Scale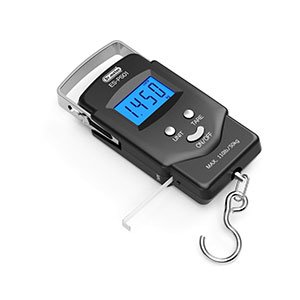 If you are going to have a scale worthy of measuring fish then make sure it is a hanging fish scale that can weigh large fish. You will love the fact that this particular weighing apparatus can accurately make measurements as small as 0.2 pounds and can weigh fish that are as large as 110 pounds. The weighing sensor is capable of making weight calculations in pounds, ounces, and kilograms.
Everyone knows that anglers want to know how much their fish weighed, but they also want to know how long their fish was. This apparatus has a measuring tape that can give you measurements in centimeters or feet. It can make a precise measurement up to three feet in length.
This scale has a hook that is kept out of sight in the back of the device, This hook is stainless steel so it can be used around water, or moisture without you worrying about it corroding or rusting. It can be used to lift that large fish, or you could use it to lift your luggage and weigh it before you leave for the airport.
The device requires 3 AAA batteries for power, and the manufacturer has included those batteries with the device.
Best Features
Bright LCD screen is easy to see
Stainless-steel hook will not corrode
Uses only 3 AAA batteries
Weighs fish up to 110 pounds
Easy to clean
Cons We Find
Not as water-resistant as some scale varieties
Cannot be submerged in water
5. MODERN STEP Hanging Scale
This is a major weighing device that is capable of weighing as much as 660 pounds. That makes it handy for farm use, deep sea fishing, regular fishing, hunters, and more. It even has an overweight alert in case you are trying to weigh more than it is capable of.
It is so small it can easily be transported in the glove compartment or storage compartment of your vehicle. It measures only 6.2 inches x 3.2 inches x 1.4 inches and weighs only one pound.
It has a large LCD screen that displays the weight calculated by the sensors. The screen is backlit so it is easy to read even if you are in dim lighting. It is powered by 3 AAA batteries and your first three batteries are included in the package.
There is a hold weight key so you can tell the scale to hold the current weight, and that gives you time to note the weight before you continue. If the scale does not automatically reset when an item is removed you can pull down slightly on the scale hook and cause the sensor to reset.
This item is made of premium materials so it is durable and reliable. The sensor of the scale is precise and accurate. If you want a tournament fish scale you can try this.
Recommended Features
Strong
Reliable and accurate
First batteries included
Easy to reset
compact
Things Might be Improved
batteries may need to be changed frequently
harder to clean than some similar products
6. Hanging Scale 660Lb 300Kg for Farm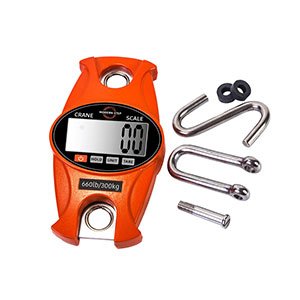 This scale can accurately measure hanging weights that are up to 660 pounds or 300 kilograms. It is easily used. You insert the batteries and then select the weight mode you prefer the sensor to calculate the weight in. You can choose from kilograms, pounds. Once you have selected the weight mode the electronic device will calculate the weight in increments of 0.2 pounds or 0.1 kilograms.
The scale can be used accurately on game or farm animals like pigs, deer, goat, sheep, calves, or even on fish, or products such as hay bales.
The giant backlit LCD screen will display your measurements in extra-large font and bold numbers so you never have trouble reading the screen.
2 AA batteries are required to power the device. The manufacturer has included the first 2 AA batteries for your convenience. Your scale is ready to use as soon as you insert those batteries and choose your weight mode.
It is a precise piece of equipment that can be used by doctors and medical professionals, hunters and anglers, farmers, and shop owners. It can be used as a household tool or a commercial operations tool.
Good Features
Versatile for fish or game
Extra-large display screen
Can operate with one hand
Only requires 2 AA batteries
Accurate and reliable
Things Can Be Overlooked
Not a water proof item
Battery life is short
7. MANGO SPOT LCD Electronic Balance Digital Fishing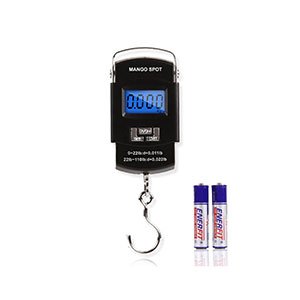 This weighing device can measure items as heavy as 110 pounds or 50 kilograms. It makes the weight calculations in increments of 0.01 pounds or 10 grams.
The scale has a tare function so if you are weighing something small enough to be placed into a container the scale will tell you the weight minus the weight of the container you are using.
It has a data lock function so you can make the weight you have just taken stay on the screen and allow you enough time to make any recording of the weight.
It is powered by 2 AAA batteries that are included with the scale. After 120 seconds of no use the scale will automatically shut off and save your battery life. It also has an overload indicator should you ever try to weigh something that is more than 110 pounds or 50 kilograms.
The scale makes measurements in kilograms, ounces, pounds, or the Chinese preferred Jin. You choose the mode of weight calculation prior to hanging the item on the stainless steel hook. The sensor then provides you the accurate and precise weight of the item in question. This device is great for household or commercial use. Although this scale has some cons, we have to admit Mango spot LCD is the best digital fish scale in the current market.
What Makes It Stand Out?
Displays weights in several measurements
Automatic shut off to save battery life
Small and lightweight
Has a TARE function
Comes with stainless-steel hook
Which Disadvantages You Must Keep in Mind?
Hook may injure fish in the weighing process
Requires batteries to operate
Mechanical Scale vs Digital Fish Scale for Weighing Your Catches
Many people wonder whether it is better to have a digital or an analog scale to weigh fish with. There are some great things about each scale type. While digital scales are more convenient and easier to read, the older analog scales are still used because of their resilience and strength.
Pros and Cons of Digital Fishing Scales
Pros
Easy to read numbers
More accurate
May include a memory or hold feature so recording weights of catches is easier
May have gripper or hook
Usually smaller and lighter than the traditional scales were
Can be reset or recalibrated easily
Cons
Water may damage the scale
Batteries need to be frequently changed
Pros and Cons of Analog Scales
Pros
Better suited for use in wet conditions
No batteries to replace
Easier to clean
More affordable
Cons
Less precise and usually does not weigh in ounces
Larger and heavier
Deciding between the two scale types will boil down to your personal preferences.
Gripper VS Hook Which One Best for Catching Fish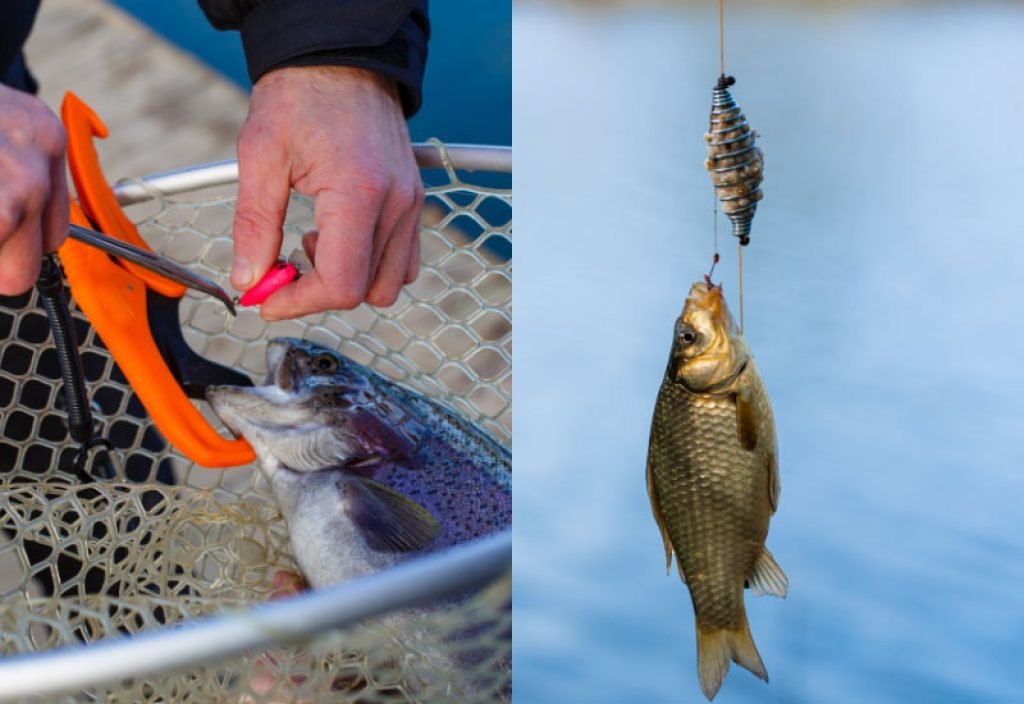 If you are weighing fish or game the scales will normally either have a gripper or a hook suspended from the bottom. You attach the fish onto the gripper or hook to get the weight measurement. The big questions is which is better, the gripper or the hook?
Hooks
The hook is inserted into the lip of the fish to hold the fish in place. The hook is going to have to penetrate the fish lip. This penetration can result in a bad tear if the fish is active while being weighed. That means the hook may damage the fish and if you are practicing catch and release the fish you release may then die because the injuries can prevent them from eating properly, can become infected, or may cause other fish and predators to attack them.
A good thing about the old-fashioned hook scales is they are typically easy to clean. The hooks are normally fashioned from stainless steel so they do not corrode and can be washed off with water. You can also buy a gripper and slip it over the hooks of the hook style scales and convert your existing set of scales to the gripper style for very little cost and almost no effort.
Grippers
The gripper style of scale is going to typically be more expensive to purchase. The gripper is made to hold the fish in a manner that will not damage the fish. The gripper is basically a spring-loaded clamp that holds onto the fish without tearing through their gills or lip. It is safer, newer, and new technology always costs a little bit more.
How to Choose the Best Fishing Scale?
The biggest problem you might have with a fishing scale is choosing the best one to suit your needs. Before you buy a scale consider the following things.
What Type of Fishing Do You Do Most Often?
Anglers either fish in salt water or fresh water. The fish that are caught by salt water anglers are often larger and weigh more than the freshwater alternatives. Before you purchase a scale you want to make sure the scale can handle the weight of a typical fish caught in the waters you prefer to fish in.
Does The Scale Have Just a Hook or Does It Have a Fish Lip Grabber?
The scales that have just a hook are far more likely to cause permanent damage to the fish you weigh than scales that are designed with fish lip grabbers. The fish lip grabbers are preferred in tournament fishing and in catch and release fishing programs because they do very little traumatic injury to the fish and the fish are more likely to survive the encounter.
The devices with fish lip grabbers also will allow you to get a good photo of the fish without having to handle it a great deal. If you are releasing the fish back into the wild; the less you touch it the better for the fish. The oils from the hands of a human can cause the fish to develop skin lesions that can often be deadly.
Does The Scale Also Have a Measuring Tape?
Anglers want to know how much their fish weigh but they are also concerned with how long their fish was. Many weighing devices come equipped with measuring tapes that allow you to get both the weight and length of the fish. Once again, be sure that the tape is a good one for measuring fish from the type of water you fish in. Salt water fish are often longer than fresh water fish are.
Is The Weight Displayed on A Screen?
If the weight of the fish is displayed on an LCD screen then the device probably takes batteries to power it. Make sure you know what size batteries you need, and how many batteries you need.
You also want to see if the LCD screen is large enough to make viewing the weight easy, and if possible get a device that has a backlit screen.
Final Note
Weighing your catch of the day allows you to know exactly how good you did, and allows you to brag about your prowess as an angler. The weighing devices mentioned above are all great items to help you take the weights, measurements, and other intricate details of your catch.
Most of these devices are made from plastic components and stainless steel components because they will primarily be used in or near water. These materials do not rust or corrode, and water does not cause them to shrink or become brittle. Although all of the fishing scales we reviewed would make an excellent choice for either beginning or intermediate fishermen.